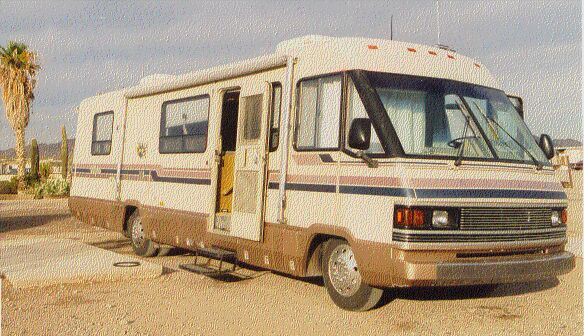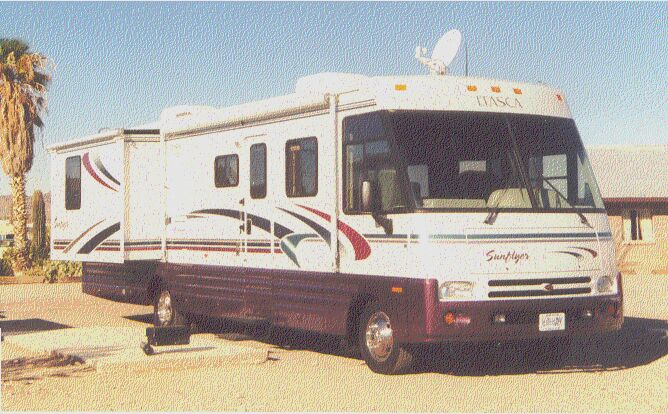 We bought our 1989 Winnnebago Chieftain New.  It was a 31RQ model 33' feet long, with a  454 Chevrolet and P30 Chassis.  We had
.
this coach until February of 2000 when we traded it in. (72,000 mi.)  The story in the April 2000 Newsletter was "written" by this motorhome.  This was the first motorhome that took us to both coasts, and beyond.  This Picture was taken in Quartzsite, Arizona the week before we traded it.
This is our "current" transportation.  A 1999 Itasca Sunflyer on a Ford Super Duty Chassis with a V-10 Triton Engine.  It's a 35U with 2 slideouts,  36' long.  It was bought used with 5,035 miles on it.  This picture was taken in Quartzsite, Arizona on the same site as the picture above.  Since that time it has rolled over 100,000 miles and still going strong.

In the 25+ years that Sharon and I have been motorhoming, we have owned 5 motorhomes.  We started out with a 21' Rig and 4 kids.  Since that time we have traded up when the opportunity presented itself and went from 21' to 23' to 27' to 33' and finally to 36'.  Now that we could get by with less room we own a 36' coach with 2 slideouts.  I don't know why it works out that way, but it seems to be most natural progression for almost everybody.  When we found our last rig in Yuma, AZ it was pretty much assumed it would be our last Class A of that size.  By the time 10 years rolls by we'll be trading down to something a lot smaller or keeping what we have.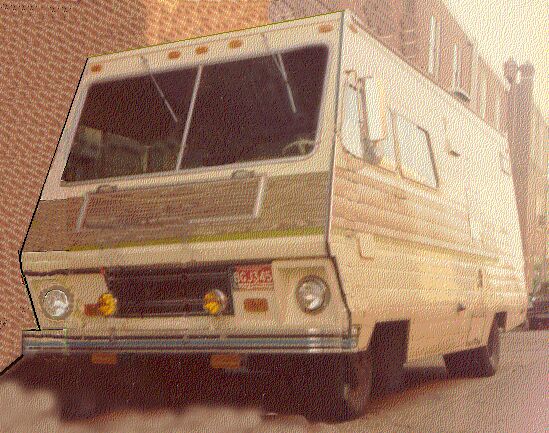 Our first motorhome was a 21 Foot, 1971 Leisure Time built on a Ford Chassis with a 360 engine.   We traded a  1973 Ford Mustang in the bargain.  The Mustang would definitely be worth more money today.  But this was the perfect "starter" for us.  We made several trips out east in this one.  It was a "big box" on wheels, but it was fun to drive.

Our second coach was our initiation into "real" Class A's.  It was a 1979 Titan made by Champion.  It was a 23' boat with a Dodge 440 engine that wandered all over the highway, like a ship without a keel.  We did, however, take many very enjoyable journeys in this baby.  It was also the only motorhome we ever made money from.

This 1983, 27' Winnebago Brave was our third.  It was a 454 Chevy that we bought with just over 5000 miles on it.  We had an Apache pop-up that we used for a utility trailer carrying our bikes coolers and firewood.   We stripped it down and painted  it the same color as the motorhome, along with the color graphics.  We looked damn good coming down the highway.  We traded this one in on our 1989 Chieftain.