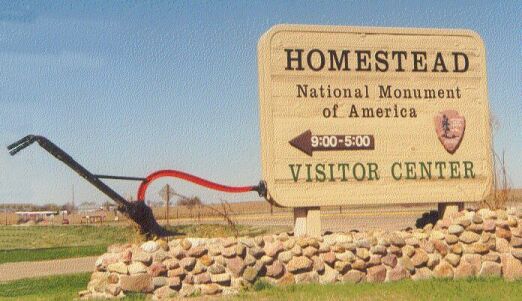 This Series of pictures began several years ago when we discovered that most people who have visited the National Parks, Monuments, Battlefields, Seashores and Historic Sites have probaby not taken notice of the creative signs which grace the landscapes there.  Some are very clever creations which MAKE people take notice of them, and others are subtle designs that really don't stand out unless you're standing 2 feet away and staring at them.  Most of the signs would pass without much notice, but the ones we've collected here are a little unusual, very creative or just downright different.  We thought you'd enjoy seeing the signs that you may have driven by and not really taken notice of before.

Homestead NM is a stained wood creation with a plow attached, located in Beatrice, Nebraska.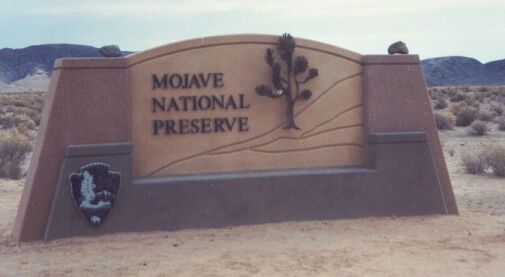 Mohave NP is a "granite-type" structure with the Joshua Tree and the lettering in raised relief.  The two rocks on the top corners were not a part of the original sign.  It's located in Baker, California.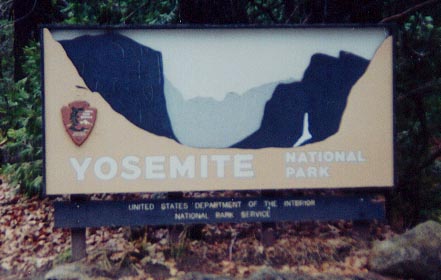 This Yosemite NP sign is located on the south entrance road to the valley from  Oakhurst, California.  The bicolor background has a raised relief of blue mountains and an additional raised relief of the pink foreground.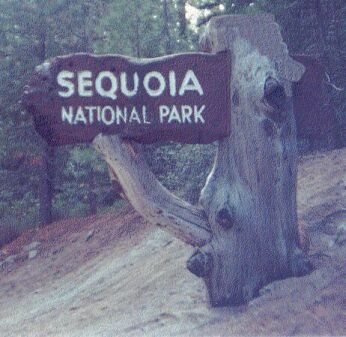 The sign for Sequoia NP is an old tree stump.  We couldn't tell if it was an old stump with a sign hung on it or if it was "planted" there.  It's on the connecting road between Kings Canyon and Sequoia National Parks.